<!–
–>
After heavy snowfall in Murree and adjoining areas, reports of heavy casualties surfaced, with cold and suffocation in a closed vehicle being cited as the alleged cause.
In a message, Inspector General of National Highways and Motorways Police Inam Ghani warned that special care should be taken in case of vehicles during snowfall.
"Carbon monoxide does not smell, so its presence is very difficult to detect and it causes immediate death," he said in a message issued on Saturday evening.
"If the car gets stuck in the snow and you keep the engine running, keep the car window slightly open and keep clearing the snow with the silencer pipe," he wrote, pointing to the possibility of an unfortunate situation.
Earlier, Fahim Younis MD, head of the epidemiology department at the American University of Maryland, had also pointed out the dangers of carbon monoxide.
In his Twitter message, Murray expressed shock at the accident, saying: "It's important to know if the deaths were caused by the cold or by carbon monoxide."
"When the car's silencer is buried in the snow, this toxic gas can spread in the car, it has no smell."
In his message, he hoped that "the investigation may save lives in the future."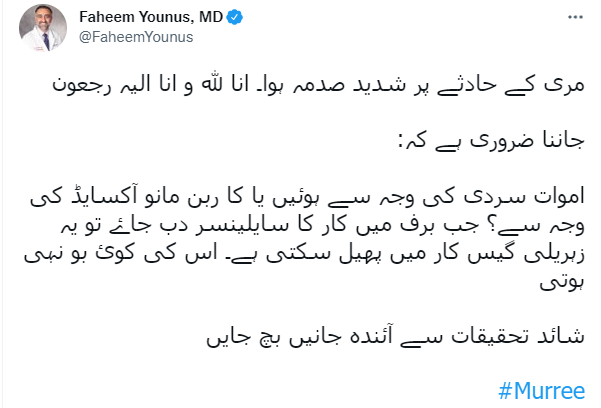 According to rescue workers, the bodies of 22 people, including women and children, have been recovered from various vehicles since Saturday morning.
Roads from Murree to Islamabad and from Murree to Abbottabad have been severely affected by the snowfall.
The cousin of ASI Naveed Iqbal of Islamabad Police, who was found dead in the car along with six children and his sister, had told Urdu News that Naveed Iqbal remained trapped in the car for several hours due to traffic jam and snowfall. He was contacted at 4 in the morning that the work of road users has started from Sunny Bank Chowk. It is hoped that the road will be opened now. With the possibility of improvement, he and the children may have fallen asleep, during which the engine of the car killed them.
.