The Punjab government has finalized a two-year-old plan to install water meters in the province to curb water wastage and increase revenue, and in this regard Water and Sanitation Agency (WASA) Lahore has entered into an agreement with a Chinese company. Is.
According to officials, WASA has entered into an agreement with a Chinese company to install 7.5 million water meters under a public-private partnership.
According to the agreement, Chinese companies will invest Rs 9.29 billion and WASA's share in the project will be Rs 2.13 billion.
Wasa Lahore has sent a letter of intent to a consortium of Chinese companies to install meters in two years at a cost of Rs 12 billion.
According to WASA Vice Chairman Imtiaz Sheikh, the Chinese consortium finalized by the company includes Wan Yaling Water Metering, Zheng Xu Zheng Lang Company and China Energy Engineering Company.
Citizens return to Lahore, the capital of Pakistan's Punjab province, on July 5, 2020, after refilling a filling point. (Photo: AFP)
Under the PPP project, Chinese companies will be required to set up a local assembly plant. A factory for water metering will be set up in six months.
Chinese companies will also be required to set up special purpose companies. The return period of investment in PPP mode will be 10 years and water metering in the city will be completed within two years from this month.
The private company will be empowered to install water meters and collect the cost of bill collection.
What is the purpose of installing water meter?
Punjab Chief Minister Usman Bazdar in a statement said that since the coming of our government, unnecessary use of WASA tube wells and working hours have been reduced. Fees and licenses are subject to private tube wells. Water recycling policies have been introduced as per the court guidelines and other unconventional measures including underground water tanks have been initiated.
According to the Punjab Chief Minister, these measures are being taken because the ground water level in the province has decreased rapidly as per the report from 1980 to 2020.
According to the data released by the Chief Minister, the ground water level in 1980 was up to 5,700 meters.
Now that the level has dropped sharply to 23,000 meters in 2020, which is dangerous, water use needs to be reduced to prevent it, so steps are being taken.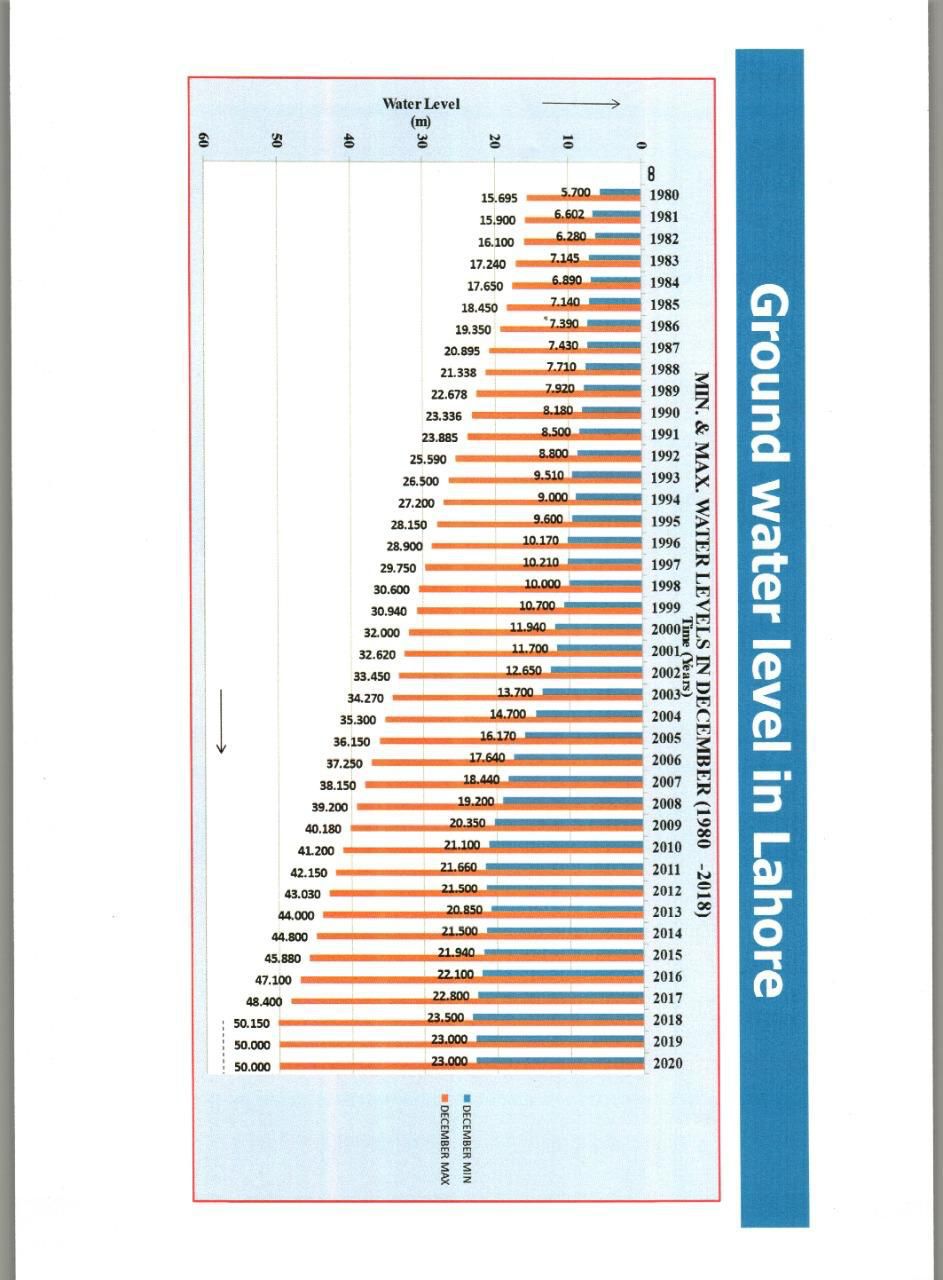 (Chief Minister's Secretariat)
Vice Chairman Wasa Imtiaz Sheikh while talking to Independent Urdu said that the aim of the government is to stop the declining level of clean ground water for which in the first phase we have installed water meters on 7.5 lakh water connections from Lahore. Has started
According to him, the first five marlas, 10 marlas or one kanal, ie depending on the area, the houses are being billed annually.
But now meters will be installed to measure per gallon of water like electricity per unit, for which the government will give 40 per cent subsidy while 60 per cent will be collected from consumers in installments with bills.
According to Imtiaz Sheikh, the way people use electricity carefully for fear of losing units, now they will not waste water and the government will have revenue.
He said that the meters would be installed only where there are already official water connections from WASA while it would not be applicable to those who install their own water treatment plants or their motors.
Public reaction to water meters
Jamaluddin, the owner of a service station in Lahore, while talking to Independent Urdu, said that it is true that the ground water level is decreasing but water is essential for life.
Clean water is definitely lost during car washing but there is no other solution. The government had instructed us to recycle the used water and use it again and again but how can we install such expensive plants? This problem can be solved only by providing recycled tap water to the service stations.
Sadiq Khan, owner of a company that sells drinking water after treatment, told Independent Urdu: "Hundreds of people in the city have set up water treatment plants, most of which get water from government connections. If water meters are installed, water will become more expensive.
This section includes related reference points (Related Nodes field)
"The government should formulate a formula to give discounts to those who sell clean water so that clean drinking water is available to the common man at the same price as before."
Farman Ali, a resident of Wahdat Colony, said he owns a five-marla house in which he lives with his four children, wife and parents.
That's enough money for a need like water. The government should stop people who waste water through awareness campaigns.
"Now, if the water bill also starts coming on a monthly basis like electricity and gas, then the poor man is already earning two meals a day with difficulty. How will he pay the bill?"
The government has not been able to provide clean drinking water to every citizen. Inflation has become so high that taxes on electricity, gas and houses have been increased.
He says that even the bill for sewerage is collected, the provision of facilities is very slow, even the sanitation system in the streets is not improved and the water supply system is rotten. The method has been worked out.
He demanded that water was needed from house to house and water was not available in many areas.
It should be noted that in the first phase, the government has prepared a plan to install water meters in Lahore and other cities of the province.