Often many people's mobiles are stolen or lost but they do not know how to find the lost mobile? That's why whenever it comes to finding a mobile, the first name that comes is IMEI number, yes you can find your lost mobile with this one number only. That's why in this post How to find mobile by IMEI number Or I am going to tell you about how to find lost phone by tracking mobile IMEI number.
In today's time every person has a mobile. It has become an important part of our life. In such a situation, if our phone is lost or stolen somewhere, then we have to face a lot of trouble. Because our important data, all contacts, personal information are saved in mobile only. Due to which many of our work stops or our personal information goes to someone else, and he can also misuse it.
If you are looking for your mobile, mobile of any of your friends or family, and IMEI Number Se Mobile Kaise Pata Kare Want to know this, so today in this post we are going to give you complete information about how to find mobile by IMEI number.
How to Remove IMEI Number of Mobile
All Android phones have a unique IMEI (International Mobile Station Equipment Identity) number. It is installed on the back of your device. 15 Digit This IMEI number is present in almost all the devices in which the network is used, this number is different in each mobile phone. Which you will find on the box of the phone, the bill and the place where the battery is installed.
Now you must have come to know where the IMEI number is. If you are still not getting the IMEI number of your mobile, then you can also remove it by dialing a number in your phone. If you want to know how? So let's know, how to know the IMEI number of the mobile? Along with how to do IMEI Number Se Mobile Track or IMEI Se Mobile Kaise Track Kare about this.
How to find mobile by IMEI number
First of all open the Phone (Dialer) app of your mobile, then you will get a code on your mobile. *#06# to dial. As soon as you dial it, the IMEI number will be shown on your mobile screen. Every mobile has two EMI numbers; IMEI 1 and IMEI 2, through both these EMI numbers, you can find your stolen mobile.
how to find mobile by imei number
After knowing the IMEI number, now go to your nearest police station and register the FIR file for theft of mobile. And there you have to give the details of IMEI number as well. On this basis your device will be tracked and your stolen phone can be recovered. If you are troubled by the fact that Bina Sim Ka Mobile Kaise Dhunde, then let us tell you that by IMEI Number you can find out that your phone is Kahan Hai even without SIM.
One more thing to keep in mind that after registering the FIR, you get a complaint number, keep it safe, because you will need it to lock the mobile.
How to find out if mobile is lost (from App)
Mobile theft is a common thing, but it can become a big problem for us, because it contains all our necessary data, which if someone gets caught then we may have to face a lot of loss and trouble. So in Chori Hua Mobile Kaise Khoje, you can find your lost or stolen phone from any of your friend's mobile. IMEI No Se Mobile Tracking About this:
step 1: First of all you have to install 'Android Device Manager' app in your friend's mobile.Google Find My Device' to download and install.
Step 2: You have to 'Sign In' with the same Google Account or Email ID that you used in your stolen mobile.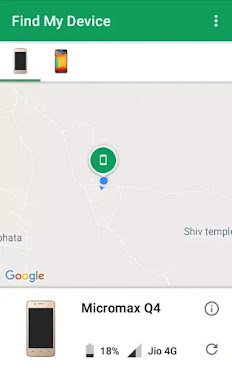 Step 3: Now here you will see the model name of your phone. Just now you can see in which location and at what distance your mobile is. So with the help of this app you can find the location of your phone.
Note that for this your stolen phone should be on, and at the same time the internet and its GPS location should also be on in the phone. If all these things are on then only you can do IMEI No Se Mobile Tracking of your stolen phone.
Let us tell you about one more important information related to how to lock mobile from Mi number in how to find mobile by IMEI number.
Chori Hua Mobile Kaise Lock Kare
If you feel that you will no longer find your stolen or lost phone, then you can also put a lock on your stolen phone. For this follow the steps given below:
#1. First Android Device Manager App 'Google Find My Device' go to
#2. Here with the same Gmail Id 'Login' Do what was in your lost phone.
#3. Google will track your phone. And there your mobile'Model No.' The show will happen.
#4. After showing the model number, you will see three options Play Sound, Secure Device and Erase Device, among them 'Secure Device' Click on.
#5. Now a new page will open in which some 'Details' Has to be filled.
#6. own in 'New Password' Insert.
#7. now the password 'Confirm' and then click on 'Next'.
#8. A pop-up message will now appear on the mobile screen, 'OK' Do it
#9. After that 'Alert Message' Type it. (Alert message i.e. what do you want to say to whoever gets your phone. If you want, you can put a request to call the person who has your lost mobile. This message will show on the phone's screen. You can also call the phone number in it. You can enter so that that person can call you on this number.)
#10. then finally 'Secure Device' Click on the button.
So in this way you can put a lock on your lost or stolen mobile and can also add mobile number. So that whoever has your phone will return it to you.
How To Complain Of Stolen Mobile Online
There are many reasons for a mobile being lost or stolen, most of which are due to theft. However, most of the people ignore the complaint of stolen mobile in the police station due to their busy life or some other reasons. It is advisable to lodge a complaint with the nearest police station and block your mobile to prevent misuse of lost mobile and theft of data.
Now the government has made the process online and easy by launching the Central Equipment Identity Registration Portal (ceir.gov.in). People who have lost their mobile using this portal can directly complain online by visiting the nearest police station.
Message on helpline number if mobile is lost – from your mobile KYM type and 14422 Send SMS to
last word
Today, through this post, you learned how to find lost phone and you also learned that IMEI Se Mobile Kaise Track Kare hope that the information given by us will be useful for you. You can find your lost mobile through the above mentioned methods. Apart from this, in this post, we have told you how to find mobile from Gmail and how to lock stolen phone? It is also told that hope you have understood everything very well.
How to find stolen mobile or if you liked the information of IMEI No Se Mobile Track Kaise Kare, then do not forget to share it with your friends, thank you for reading the post.
FAQs related to IMEI number
IMEI number is a unique 15 digit code that resides in every mobile, any mobile can be tracked by this number.
What is the Full Form of IMEI?
The full form of IMEI is International Mobile Equipment Identity.
How do I find out my IMEI number?
Dial *#06# to get your phone's IMEI, or search for it in phone settings.
How many digits is an IMEI number?
Every mobile phone, GSM modem or device with built-in phone/modem has a unique 15 digit IMEI number.